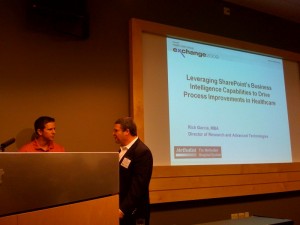 Wow, what a day yesterday. Gave a presentation at the Microsoft Healthcare User Group Conference with Rick Garcia of Methodist hospital to two completely packed rooms. Funny thing, Rick and I had no clue we were supposed to be using the microphones because there was another room full of attendees that obviously couldn't hear us without them.
In the presentation Rick talked about how they, with the help of Courtyard Group, have reformed their Business Intelligence (BI) organization to be driven by the end-user versus by the IT team. This is key in all BI organizations as, it is not something that IT (in most cases) will truly understand usually.
When IT is the driver behind BI initiatives what I've found is that users will simply take the data that IT is providing them, import it into Excel or Access, and then build their own BI from it. This is bad. From an organizational standpiont you have a valuable resource spending time collecting, formatting, and organizing data (something much better handeled by IT when given proper requirements) rather than doing the true analysis. From an Business Continuity (BCP) standpoint you are also now subject to a single point of failure since the analyst will most likely save the reports to their desktop
My portion of the presentation covered the Microsoft Business Intelligence stack and how we are using that to help Methodists IT group focus more on delivering the analysis tools to the users rather than doing the reports themselves. This falls into that category of "BI for the masses" and helping create that reality where IT's main focus is to integrate the systems and present the analytical tools to the business users to do the analysis. This is how I believe BI works best and provides the most value to an organization. Of course, all of this is delivered in SharePoint as this is where all end-users are being driven to store, manage, and find any and all information.
I am really excited about where Methodist is going with their Business Intelligence initiative and hope to follow up with some more great details at the next Microsoft Healthcare User Group Conference.
Cheers!
Ben
References:
MS HUG Breakout Sessions: www.mshug.org/events/exchange_Sept2009.aspx

Presentation Slides: www.mshug.org/docs/exhange2009/Garcia_LeveragingSharePointBI.pdf
Methodist Hospital System: www.methodisthealth.com
Courtyard Group: www.courtyard-group.com/
SharePoint360: sharepoint360.com